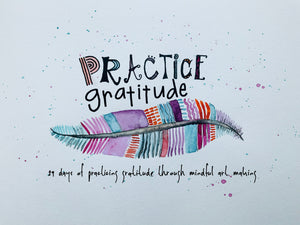 PRACTICE gratitude-29 days of practicing gratitude through mindful art making
Regular price $41.00 Sale
A practice of giving thanks through the mindful creation of "gratitude feathers".
Each day a new video will appear including:

words to ponder

a mindful exercise
ideas for creating your "gratitude feather"
Energy goes where energy flows.  I invite you to join me for a few moments each day for 29 days.  Let's practice together and shift our thoughts and experience the power of gratitude and how it can change your life.
The videos for each day are pre-recorded and you are invited to join a PRIVATE Facebook group to continue the conversation and share your feather creations.
Upon CHECKOUT you will receive an e-mail with instructions on how to access the course.   
"Gratitude is a powerful catalyst for happiness. It's the spark that lights a fire of joy in your soul." – Amy Collette